2021 Consumer Contact Retrospective
Happy New Year! While we look ahead to the new year, it's also a great time to pause and reflect on the last. 2021 was an interesting year in the consumer contact world. Class actions filed under the TCPA (Telephone Consumer Protection Act) dropped by nearly 50% after the Supreme Court clarified the definition of an ATDS (Automatic Telephone Dialing System). However, there were still several spectacularly high settlements and also test cases filed in less commonly litigated issues, including DNC policy requests, pre-recorded informational calls, and more.
2021 also saw more action at the state level, including new calling rules in New York and Florida. This year also saw the Consumer Financial Protection Bureau's contact regulations under the Federal Debt Collection Protection Act go into effect.
Supreme Court Clarifies Definition of an ATDS under the TCPA, but questions remain
On April 1, 2021, the Supreme Court weighed in on the definition of an ATDS under the TCPA, finding that "to qualify as an 'automatic telephone dialing system,' a device must have the capacity either to store a telephone number using a random or sequential number generator or to produce a telephone number using a random or sequential number generator."
Lower courts are now applying this plain reading of the statutory language but open questions remain. For instance, to what degree should capacity to generate random or sequential numbers be taken into account, especially when that capacity is not utilized?
Read more: ATDS Analysis: What Matters Post-Facebook
FCC Considers Technological Solutions to Curb Illegal and Unwanted Calls
For the past several years, the FCC has encouraged companies to develop technological solutions to combat robocalls. This year saw the FCC add teeth to those recommendations. By the end of June, the FCC required all voice service providers to certify their implementation of the STIR/SHAKEN call authentication protocol and the reasonable measures they've taken to authenticate traffic on non-IP portions of their networks in the Robocall Mitigation Database. The FCC further required voice service providers to block traffic from any entity not listed in the Database after September 28, 2021. The FCC also continued to encourage voice service providers and third-party apps to develop technological solutions to help consumers avoid unwanted and illegal calls, including labeling calls as "spam" or "scam."
Read more: What Callers Need to Know About STIR/SHAKEN
Reassigned Numbers Database
On November 1, 2021, the Reassigned Numbers Database (RND) was launched in earnest, finally giving callers the ability to check if a number has changed hands. Callers who choose to use the database may qualify for a safe harbor for wrong party contact violations of the TCPA if the caller:
Obtained consent to call the phone number;
Checked their calling numbers against the most recent version of the Reassigned Numbers Database; and
Only place calls to numbers that return a "No" response from the database (indicating that the number has not been reassigned since consent was obtained).
Callers can find more information about pricing or how to sign up for the Reassigned Numbers Database at https://www.reassigned.us/
Read more: Reassigned Numbers Database FAQ
Fair Debt Collection Practices Act
The Fair Debt Collections Practices Act (FDCPA) places restrictions on what third-party debt collectors may do. At the end of 2020, the CFPB began issuing regulations under the law. Those regulations include new rules about how people may be contacted regarding delinquent debts. The rules also include updates related to call attempts, circumstances under which a debtor may be contacted by email or text, and introduce the idea of a "limited-content message." These updates went into effect on November 30, 2021.
Read more: New Calling Attempts Rules for Debt Collectors
States Get Serious About Regulating Calling
In 2021, states ramped up efforts to curb illegal and unwanted calls. Attorneys General from across the country joined together to petition the FCC to shorten the period of time small carriers had to comply with the STIR/SHAKEN call authentication protocol and to ask the FCC to consider requiring companies with direct access to phone numbers to perform due diligence on their customers in an effort to stop illegal calls originating from legally-obtained numbers. The Attorneys General also hosted their first-ever Robocall Summit.
Several state legislatures also passed new calling rules in 2021. New York enacted several bills, including explicitly making text messages subject to New York calling rules, requiring Voice Service Providers to adopt the STIR/SHAKEN caller authentication protocol, and requiring that Voice Service Providers block certain phone numbers.
Read more: NY Enacts Bills to Curb Robocalls and Call Spoofing
Ohio also made changes to their calling rules, including criminalizing certain types of spoofing.
Florida made the most drastic updates to their calling rules. Effective July 1, 2021, all sales or marketing calls to consumers placed with an "automated system for the selection or dialing of telephone numbers or the playing of a pre-recorded message" require express written consent. Adding an additional wrinkle, all calls placed to Florida area codes are presumed to belong to Florida residents. Additionally, the law added new calling attempts rules and shortened allowable calling times to between 8 AM and 8 PM.
Read more: Florida Governor Signs SB 1120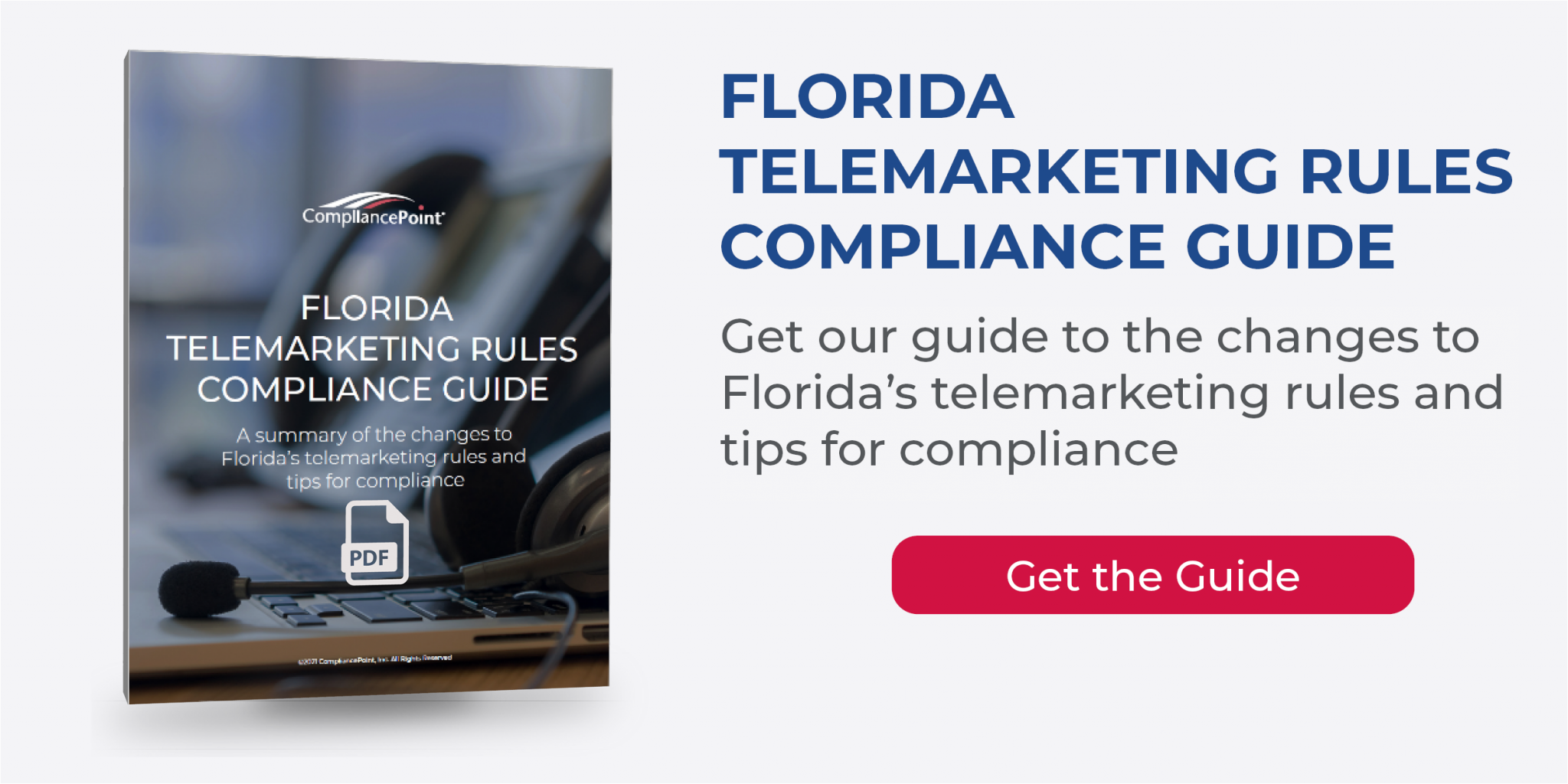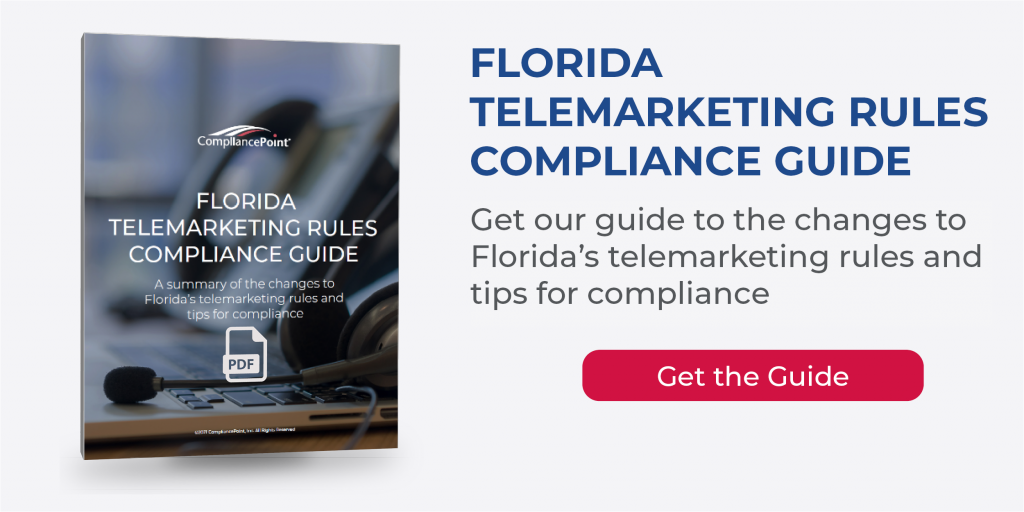 Please reach out to us at connect@compliancepoint.com if you have any questions about these changes or how CompliancePoint can assist your organization with managing your marketing compliance.
Finding a credible expert with the appropriate background, expertise, and credentials can be difficult. CompliancePoint is here to help.