Practical Advice on How to Avoid a TCPA Lawsuit
Connecting with consumers via text message is an effective means to increase engagement and ultimately sales. Text messages have proven to be more successful than emails when looking at conversion and click-thru rates. In fact, 95% of texts are read in ninety seconds or less! While text messages can be a great way to engage with prospects and customers, the FCC's Telephone Consumer Protection Act (TCPA) is a regulation you need to be mindful of. In fact, the average cost of a TCPA settlement is over $6m dollars, which doesn't include legal fees or reputational damage.
Over the past few years, there have been about 4,000 TCPA cases filed annually. Take a look at the growth: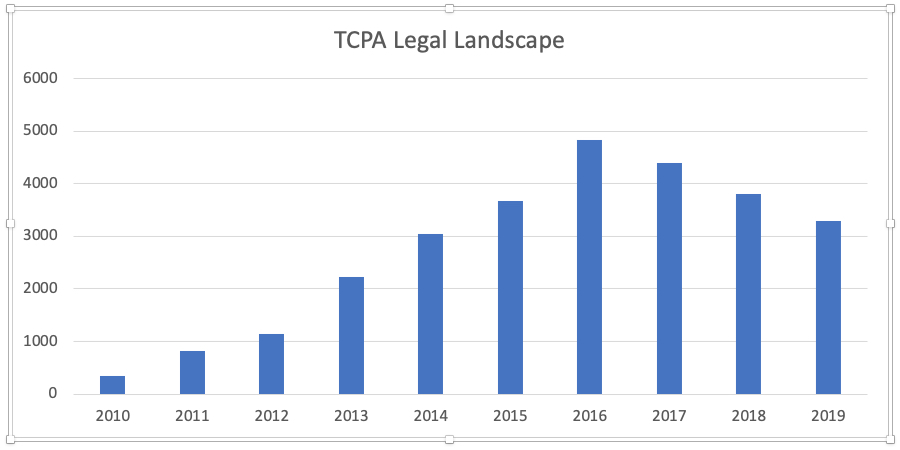 Companies are being targeted for various reasons, but there are a few that I'll cover below along with some advice on how to avoid TCPA suits.
See if you can spot the trend in these cases:
Papa Johns: $16.5m settlement due to texting pizza specials to consumers without their consent.
Abercrombie & Fitch: $10m settlement due to texting store promotions to consumers without their consent.
Rack Room Shoes: $26m settlement for texting their reward program members with various sales without their consent.
Do any of these campaigns sound like something your company is engaged in?
So, you've got someone who has signed up for a rewards program, wants to receive deals, or has provided their number to your company for other purposes, but you are concerned about the TCPA (hopefully). Based on my experience working with hundreds of clients at CompliancePoint, here's where I think you should start. But first…
Quick assumption: Your company is using an automated system to send both informational and promotional texts. Examples include "blast campaigns" (upcoming sale) or "triggered campaigns" (signed up for rewards).
Quick point: Just because the text message says your store is having a sale but doesn't ask the consumer to buy anything on the message, you may think it's not considered "telemarketing". This is wrong. Any plan to sell now or in the future through direct marketing is telemarketing and subject to the TCPA.
Here are my top 5 things to consider:
Obtain consent. This is not achieved by simply having a number provided by the consumer. Instead, the consumer must affirmatively agree to receive promotional calls/texts by automated means. This is done through a clear disclosure and often accompanied by an unchecked checkbox.
Honor opt-outs. This seems obvious right? Provide instructions on how to opt-out and look for other phrases like "stop/quit/cancel". Opt-outs should occur immediately with most common texting platforms.
Keep records. If you receive a complaint, you want to be able to respond confidently and records help you do that. The key records to maintain are your texting records (the phone numbers you texted, the date/time of the text, and the content of the text), your consent opt-in forms, and opt-out requests from consumers with dates. Ask yourself: what records do you need to prove you had consent, and what records prove you didn't text a consumer after they opted out.
Only text consumers between the hours of 8AM and 9PM according to their time zone. I always recommend going off address and not phone number due to cellphone mobility. If you text a California number at 8PM, but the phone owner lives in New York, you might get a few complaints.
Monitor compliance with these items. Another one that seems obvious, yet most companies fail to do so, and you see above what happens. I guarantee you'll find issues with most audits.
Bonus – here is a more comprehensive checklist on how to achieve a Safe-Harbor defense.
Please reach out to us at connect@compliancepoint.com if you have any questions about this topic or how CompliancePoint can assist your organization with managing your marketing compliance.
Finding a credible expert with the appropriate background, expertise, and credentials can be difficult. CompliancePoint is here to help.